"I only see a great big exit sign."
Official Synopsis from Goodreads
In the sandy Mojave Desert, Madison is a small town on the road between nothing and nowhere. But Eldon wouldn't want to live anywhere else, because in Madison, everyone gets one wish—and that wish always comes true.
Some people wish for money, some people wish for love, but Eldon has seen how wishes have broken the people around him. And with the lives of his family and friends in chaos, he's left with more questions than answers. Can he make their lives better? How can he be happy if the people around him aren't? And what hope is there for any of them if happiness isn't an achievable dream? Doubts build, leading Eldon to a more outlandish and scary thought: maybe you can't wish for happiness…maybe, just maybe, you have to make it for yourself.
 GENRE: Young Adult, Fantasy, Contemporary, Magical Realism, Fiction
 FORMAT: Paperback
 EXPECTED PUBLICATION DATE: January 2nd 2018
 GET A COPY: 

Amazon

 / 

Barnes & Noble

 / 

Book Depository
CONTENT WARNING: Anxiety, Depression, Racism
THOUGHTS
Wishes. Free luck anyone?
A few days ago, I was really having a major book slump when I remembered my new e-ARCs from Netgalley. Like many other book bloggers out there who receive e-ARCs, ARCs, e-books, and/or physical copies of books for free, I am also excited to cross some books off my fastly-growing TBR list. It isn't easy, you know, choosing the next book to read considering the many options I have… but hey, I'm not complaining. I am actually eternally grateful for all the perks book blogging has given me and that includes receiving review copies of books for free.
Okay. So about my book slump: I tried to post something about it and asked the internet for help with what to read next. A book-blogger from France named Marie of Drizzle and Hurricane Books replied and suggested that As You Wish by Chelsea Sedoti can help me overcome a bit. Since that book is also something I've been eyeing on ever since I saw, requested and received it from NetGalley, I thought I should give it a go. And so I did. I read the book. And afterwards, my brain came up with a review title:
5 Reasons Why Reading As You Wish by Chelsea Sedoti is Just a Waste of Time (& Money if You Bought It)
1. It is boring.
As You Wish by Chelsea Sedoti presented a good and kind of an original exciting concept: anyone in a certain town (Madison) who has just turned 18 is to wish inside a cave and that wish will surely come true. But they have to keep it as a secret from everyone outside this small and boring town. Speaking of boring, that's what this book is. A boring read. An annoying read. Also, what the heck?
2. The characters are poorly constructed.
We are presented with characters that are mostly very problematic, disturbing and hard to like. They are annoying, poorly constructed and some are not even alive in the story. It could've been alright, though, only if the names are easy to memorize. They're not. And the character who deserves the bucket with most stones is none other than our male protagonist, Eldon Wilkes.
Eldon is a high school student who loudly confesses his outright hatred towards everything. He hates his friends, schoolmates, parents (particularly Ma), teachers, and the mayor. He basically hates everyone in town. (Wow, very high school. Very teenager. Claps). Everything feels wrong about this character; he's a liar, so full of himself, seeks everyone's attention (all the freaking time) and has a very violent nature. He's the type of character I would like to exist in real life just so I could yell at him and tell him how terrible he is.
3. Racism.
I have seriously lost count of the times I rolled my eyes because of what had to come out of his filthy mouth. I can't stand him, really. He is just… very hard to like. Also, I hate how he had easily gotten away with his "crime". Maybe because he's white?
"Hope my blond hair and blue eyes and straight teeth convince them I'm some harmless all- American kid, someone they can trust." – Eldon
So, is this book telling us, through the author's beloved Eldon, that all non-American and American POCs are harmful? The racism in this book is light but it is undeniably… there.
Eldon often does this whole insulting-other-people thing and he often does it for his own delight and also, because he's a douchebag.
"…from his (Robert Nash, a radio host) smooth deep voice I'd expected someone scholarly. Someone who demands respect. But he's got a ridiculous ponytail, his clothes look like he picked them up off the floor, and his glasses are so thick…)" – Eldon
Again, why throw shade at people who are Robert Nash-y? Do all boys (in real life) with long hair, weird clothes and who wear glasses demand to be disrespected? Do they automatically deserve to be disrespected just because they are this and that?
It's okay to have imperfect characters in the story but to insult people—people who have these physical characteristics in real life– for the sake of proving that the protagonist is an asshole? Things like this, although fictional, have an implication in real life. They have an impact on real people.
4. "Boys will always be boys" card.
Also, omg, I almost let this pass: The time Eldon gave his friend, Norie an unsolicited kiss because he thought she likes him? (Oh, come on?!) And he got away with it, again? Because he's a boy and he was drunk and in real life, it is socially acceptable… but when a girl is drunk and she got raped it's her fault???
Oh Mika, shut it. It's just literature. Literature my ass. Okay, then. Let's normalize bad behavior through the books that are easily accessible to kids and teens… to people whom the earlier generation is trying to raise. And together, let's wonder why kids nowadays are like this. Good idea, right? I mean, It can't be the only cause, can it?
You see, I see what the author is trying to do here; making something (probably a lesson? Idk) out of an imperfect story with imperfect characters living in an imperfect town, but the execution has miserably failed. Know what I'm talking about?
To be fair, there are other characters that are made less problematic… but THEY ARE ALL STILL TOTALLY FORGETTABLE. Eldon and his friends visit random people's houses to ask about something personal (that is their wishes) just to get rude afterwards. Super cute, right? Ha!
5. I couldn't bring myself to care about the plot. (And there's a high probability that you'll feel this too.)
You guys, I just stopped caring. I don't care about the plot. I don't care about the setting. And I don't care about what happened to Eldon—why he turned out to be like that. I just don't care. Eldon is way too toxic that when his character improved a bit at the last pages of the book, I was neither moved nor impressed. At all. Am I even supposed to?
RATING:
---
Note: This review is based on an eBook I received courtesy of the
publisher, SOURCEBOOKS Fire via NetGalley.
---
Have you read this book? Did you enjoy it? Is there a book that irritated you so much too? Let's talk about it, my dude. You know you can cry to me about it. Pour it all out in the comments section below!
Enjoyed this review? Cool!
Before you go, I'd like to invite you to join me on Twitter, Instagram and Pinterest. Also, click the huge button below to join my exclusive mailing list and start receiving updates from this book blog!
MEET CHELSEA SEDOTI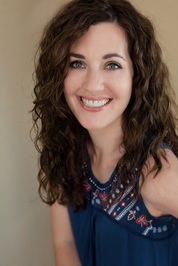 Chelsea Sedoti fell in love with writing at a young age after discovering that making up stories was more fun than doing her school work (her teachers didn't always appreciate this.) In an effort to avoid getting a "real" job, Chelsea explored careers as a balloon twister, filmmaker, and paranormal investigator. Eventually she realized that her true passion is writing about flawed teenagers who are also afraid of growing up. When she's not at the computer, Chelsea spends her time exploring abandoned buildings, eating junk food at roadside diners, and trying to befriend every animal in the world. She lives in Las Vegas, Nevada where she avoids casinos, but loves roaming the Mojave Desert.
---