Hi guys! How is everyone? I hope you guys are doing okay wherever you are. How's your summer so far? I've been freaking out a lot these days because I'm not getting enough social interaction so I just cope by obsessing over things and other human beings. I watch tv series after tv series and try to cross out some of the books on my TBR list too. While living the Patrick-Star-Under-The-Rock life, I noticed how much I've gone to like, like really like some things I don't give a frozen ice cream about before and I'm so excited to share them all with you. Let's get started.

My 9 July Favorites: Recommendations, Mini-Reviews and Life Update
1. WEIGHTLIFTING FAIRY KIM BOK JOO
My friend gave me a copy of this K-drama. To be honest, I was quite hesitant to watch it at first because the title has a word "weightlifting" in it and I am not interested in sports let alone weightlifting! Lol. I watched because I wanted to be a good friend and omg you guys, it's not what I thought it is. Kim Bok Joo, the main character is so cute! She is the reason why I became obsessed with K-dramas. The whole drama made me laugh and cry like a lil baby! Plus, there's not a moment I got bored while watching this. A super must-watch! This series made me think of ditching American tv series right away for good. Oops!
2. GOBLIN
After watching WF, my very good friend gave me another copy of another K-drama. This drama made me hold on to my pillow for so many times. I also cried and laughed a lot but I mostly cried a lot. Hehe. The chemistry between Kim Shin (Goblin) and his bride, Ji Eun Tak is soo strong despite their age gap! When I finished this series, I found out that this has a drama special so I watched that too. I even re-watched this drama. I NEVER RE-WATCH ANYTHING!
Related: 5 Times the K-drama Series called Goblin Reminded Me of Sarah J. Maas's ACOTAR
Got any drama crushes? Why, YES OF COURSE!
3. LEE DONG WOOK
You guys. I don't even know where to start. I LOVE LEE DONG WOOK AKA GRIM REAPER SO MUCH. He is super handsome, adorable, and hilarious. I also love his character's dumbass amnesiac self so much! His acting is everything. Haha!  And guys, HE IS MY BIRTHDAY TWIN (November 6). I really had a major crush on him after watching Goblin!
4. YOOK SUNG-JAE
I first saw this 20-something year old boy on the hit K-drama series, Goblin as Deok-Hwa. He played as Kim Shin and Grim Reaper's nephew. He is handsome as hell like Lee Dong Wook, I finished watching the series and didn't care about him because I was busy stalking that other crush then. Hehe. You guys, they are both so, so adorable I've never been obsessed with a celebrity or two before! Anyway, we're talking about Yook Sung-Jae (YSJ) here so…
After watching Goblin, I watched another K-drama called Who are You: School 2015 where YSJ also starred in. His role was sooo different from his role in Goblin. I fell in love guys! He is the second male lead there named Gong Tae Kwang and I seriously rooted for him from the start just because he is, well, YSJ.
[SPOILER] His character is an angsty teenage boy who is cold and always sleeps in class but behind that façade is a person who's willing to do and risk everything for the woman he loves. I was rooting for him from start to finish so when the series came to an end (which is not favorable for his character btw), I was left shattered on the cold hard ground! Gong Tae Kwang deserved better! My poor baby!
I am definitely looking forward to seeing YSJ more on screen!
5. WHO ARE YOU: SCHOOL 2015
Of course, right after watching Goblin, I went looking for another fix and because I love Yook Sung Jae so freaking much, I watched another K-drama where he appeared in as well. This K-drama series is about family, friendship, high school life and bullying.
The first few episodes were quite boring and confusing but when I reached the middle, when I became so engrossed in the series, I realized how good this one actually is. This series gave me a MAJOR SECOND LEAD SYNDROME like I really felt physically sick whenever the leading lady gently rejects my fave's love.
The ending made me mad as hell and left me wanting to punch everyone's throat. It's really, really frustrating to the maximum level but this is still a 5-star drama for me! Please, please, please if you guys have time, watch this. You will feel everything you need to feel but will still end up liking the drama so hard. I will definitely re-watch this one too!
[edit: I miss Gong Tae Kwang so much I started watching School 2017. Ep 1 is okay but seeing the almost similar classroom without GTK made me cringe and cry inside. The drama hangover is real guys.]
6. KOREANS IN GENERAL
I stanned American TV series so hard before my K-drama addict phase that I almost look like a live American TV series fan account in real life. I still consider watching the next installments of my past faves like 13 Reasons Why, Scream Queens, The Walking Dead, and Stranger Things but it might take me awhile to start a new one because I am obsessed with Korean Drama now it feels like there's no way out.
Koreans made it happen. Their cute body movements and lovely nature in general made me like their craft and culture so much. I also would like to learn how to write, read and speak Korean to further my newly found passion for them. Lol.
And guys, their poreless perfect faces, the way Korean males put on lipstick and eye shadow… the fact they do not giving a single funk about society's gender roles??? AMAZING! I love them so much!
Also, I am a naturally thin person and a lot of them are super thin too so I guess when I'm brave enough to visit their country already, I won't be having problems looking for clothes to buy. Here in the Philippines, I sometimes buy clothes and shoes in the kids section and that's embarrassing for my part because I'm tiny and has a body of a 12 year-old. Geez. 😦 Lol.
7. MARIE OF DRIZZLE AND HURRICANE BOOKS
Blog envy is a thing especially for me. You guys, if you're looking for an excellent book blog that's complete with blogging tips, bookish discussions and book reviews, head over to her blog. I love how consistent she is. I love her too! I have spent an unreasonable amount of time in her book blog last July so she is, without a doubt, deserving to be on this list!
8. SONGS FROM RICHMOND AVENUE BY MIKE REED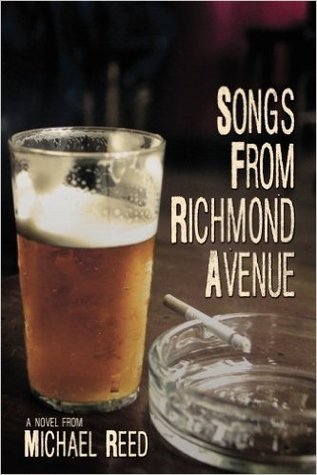 Reading a lot is not something I did last month due to my reading slump. My book of the month for the month of July has to be this one. It is not Young Adult Lit but it is still enjoyable for me. The characters in this book are all alive and have something to say so this book has definitely stolen my heart! For full review, click here.
9. HOPELESS FOUNTAIN KINGDOM ALBUM BY HALSEY
So we're down to my last but not the least July favorite!
Back then before her fame, Halsey was my favorite secret. Her songs are very poetic and are almost always suitable to be the sound tracks of any eerie and intriguing tv series or movie. I love her previous albums more but HFK is also something.
My personal faves from this album are Lie, Heaven in Hiding and Now or Never. This album deserves to be on the list because I played it every single time I shower last month. I stopped this month though to avoid the probability of hating her songs due to repetition! Haha! I don't care if she's problematic, I really don't. Her songs make me feel things and that's why I still like her like a lot!
What are your current obsessions? Feel free to comment below!
If you haven't already, please join me on Twitter and Instagram so we can fangirl together next time hehe! Also, you can join my mailing list to receive my book reviews, bookish discussions and other awesome stuff straight to your inbox. 🙂
Thank you so much for reading. See you in my next post! ❤
---
Photo Source(s):
Weightlifting Fairy Gif (a), Goblin (a, b, c, d), Lee Dong Wook (a, b, c), Yook Sung Jae (a, b, c), Who Are You: School 2015 (a, b, c), Songs From Richmond Avenue (Goodreads), Hopeless Fountain Kingdom (a)